I didn't get anything last week and didn't get anything this week until yesterday when I bought 3 books.I was at a bookstore and ther were like 20 books I wanted.
When Katrina spots a homeless guy sleeping in the alley behind her grandmother's coffee shop, she decides to leave him a cup of coffee, a bag of chocolate-covered coffee beans, and some pastries to tide him over. Little does she know that this random act of kindness is about to turn her life upside down. Because this adorable vagrant, Malcolm, is really a guardian angel on a break between missions. And he won't leave until he can reward Katrina's selflessness by fulfilling her deepest desire. Now if only she could decide what that might be . . .
This looks really cute.And I love the cover it is super cute. And I have this is really good.
Get ready to enter a world of high-fashion and high-drama with a fabulous new fiction series inspired by the hit TV show America's Next Top Model!
ALEXIS: With my red curls and blue eyes, I may seem like just another shy small-town girl. But I have some serious secrets up my sleeve.
CHLOE: I've inherited my supermodel mom's looks, and everyone expects me to follow in her Jimmy Choos. The catch? My wildest dreams have nothing to do with a runway.
LINDSAY: Just call me the comeback kid. I used to be a celeb, but my star power dimmed. Now, I'm hoping that my beauty, brains, and a little bit of backstabbing will make me famous again.
SHIVA-ROSE: As the exotic international girl, I've got mystery working in my favor. But will a crush on the wrong guy threaten my shot at winning?
This sounds like my type of book. But I didn't find any reviews so I don't know what it's like. I am not a big fan of any of the covers in this series.
Eye Candy by Taryn Bell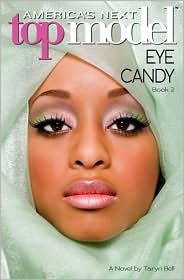 The five girls from Book One are back, and this time there are boys involved. The competition heats up, and so do the crushes. On top of that secrets are revealed, including the fact that one of the competitors has already been kicked out of three different schools. If she can't make it this time, there won't be another chance, but will her efforts to save the world get in the way? Or can this free-spirit settle down and do what needs to be done?
Includes exclusive content from America's Next Top Model: an insider's view of a fashion shoot, tips for keeping cool when the pressure is on, how to deal with not getting the assignment, and much more all from former contestants and winners on the show!
This is the second book in the series. I don't like this cover either. But the books still look good.